Jordan Dambeck
---
Sign up to be notified of our new blog posts.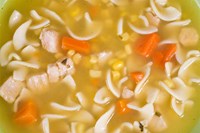 With a nod to a famous advertising tagline, more and more people around the world are agreeing that "soup is good food". Even without the spike in demand caused by the pandemic in 2020, the global soup market was on a steady rise. So, it's no surprise that researchers expect significant growth in the coming years, with global annual value reaching $20B by 2026 – a nearly 20% increase over 2020. This positive outlook – driven by a growing demand for healthy convenience food, mounting interest in global and ethnic culinary offerings and heightened popularity of fresh prepared/ready-to-eat and frozen foods – is leading many soup producers to evaluate their processing operations, to make sure they can consistently churn out enough product to meet demand.
Chances are, if you are in the food manufacturing industry, you think a lot about new product development. Many food manufacturers consider it to be the driving force of their organic growth. They make great investments to develop new products that attract consumer interest and widen their revenue streams. Yet, despite the emphasis, it is not uncommon for manufacturers to limit their potential by setting up shortsighted or sub-optimized production processes to produce their new products.