Industrial Blenders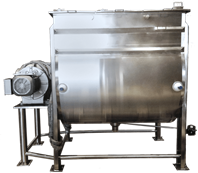 Lee industrial blenders provide a safe and cost effective solution to gentle but thorough agitation requirements. They are often used for creating powders, spices, granulated products, sauces, salad dressing and even sausage. While vertical configurations are available, most are horizontal mixing side-to-side in a trough. If you're looking for a vertical mix, consider a Lee
agitator
or
mixer
.
Lee Industrial Blenders
Lee Industries industrial blenders have a completely clean interior with large radius corners. They are available in horizontal and vertical (less common) configurations and capacities from 25 to 5000 gallons with a wide choice of agitator styles - single or double ribbon, paddle, or bar - all available with a scraped surface. Agitators can be selected for a lifting, folding or cross-blending action.
Standard Features
Feature:
Uniform, clean interior finish with large-radius corners

Heavy Duty USDA approved direct drive agitators

Double-ribbon, paddle and scraped combinations available

USDA-MID approved agitators and sanitary shaft seals are standard

Wide variety of outlets available

Available with Lee Fluid Transfer USDA-MID approved flush-type ball valves (meets 3A standards)

Insulated heating/cooling ASME Uniflow jackets to 100 PSI with increased operating temperatures are optional

Uniflow jacket option provides extreme heat transfer and is utilized for operating pressures up to 250 PSI

Jacketed blenders are standard with 1 ½" insulation and a 304 stainless steel sheath (parts available in 304 or 316 stainless steel)

Internal vacuum/pressure capability option provides processing flexibility and efficiency

Available in capacities from 25 to 5,000 gallons

Wide choice of agitator styles including single- or double-ribbon, paddle or bar, available with scraped surface

Agitators can be selected for lifting, folding or cross-blending action

#4 finish is standard and available in a wide-range from mill to Lee's exclusive Super #7 mirror finish (less than 6 Ra)

Stainless steel tubular legs and cover are standard or can be suspended or trunnion mounted

All standard blenders are available with optional hydraulic tilt
If you aren't sure if one of our industrial blenders will meet your needs, or are overwhelmed by the choices, call us. Tell us what your specific needs are and let us put our decades of knowledge and expertise to work for you.
Industrial Blender Options & Accessories
While the style you choose will have its own set of features, you also have the opportunity to choose from a few other options.
Electropolishing and Finishing
We recognize the demand for high-quality, durable, ultra-sanitary finishes. We provide world-class mechanical finishes and can also provide electropolish finishes on all of our parts and products.
Jackets
Insulated heating and/or cooling jackets are optional for all units. The Uniflow coil style jacket is used for operating pressures up to 250 PSI.
Vacuum/Pressure capabilities are available with our blenders.
Altering the configuration of your blender by tilting it could help you get a more thorough mix. Our blenders come with a few tilting options.