Agitators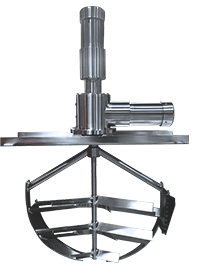 Our agitators are ideal if you need to blend batches of various viscosities or transfer heat to create and maintain a consistent product in our kettles, tanks and vacuum pans, regardless of whether your vessel has a hemispheric, flat, pitched, dished or cone bottom. Agitator bars and scrapers are designed to work tirelessly to create a uniform product. Searching for something that will blend liquids, or liquids and particles, with varying densities? Consider a Lee turbine mixer or high-shear mixer.
Lee Industries Agitator Styles
All Lee Industries agitators are uniquely designed and fabricated with Processing Perfection in mind. The Lee Process Engineering, Design Engineering and Fabrication teams provide the most robust, versatile and consistent agitators with your processing needs as the focus. We take great pride in the thousands of mixing and processing systems we have supplied, and are always available to work with you to select the best agitator choice to help you achieve Processing Perfection. Lee custom agitators have a proven superior record of processing throughout the Food, Pharmaceutical, Personal Care, Cosmetic, Animal Health and Chemical Industries.
Agitator Standard Features
All Lee Agitator Styles Feature:
Proven designs capable of mixing product viscosities ranging from waterlike to over 2,000,000 cps, with a minimum standard design on all scraped-surface agitators of 100,000 cps.

Lee agitators are USDA approved.

Lee superior, exclusive gearboxes or various alternative arrangements, are designed with the finest gearbox manufacturers in the world to offer the most robust drive systems. Optional independent gearbox designs for double-motion agitators are available, maximizing mixing flexibility for future products.

Equipped with optional scraper blade styles and materials, from the time tested Lee standard scraper blade, to wide mixing/lifting/heavy duty shovel-style scraper assemblies.

Custom design with improved functionality for products that are difficult to mix with standard vertical agitators. Lee offers a wide variation of inclined agitators to provide uniform dispersion of particulates, while maintaining gentle agitation to preserve product integrity.

Enhanced with state-of-the-art variable-speed capabilities for the most versatile processing opportunities.

Manufactured using only the highest-quality sanitary materials, welding and polishing available today.

Versatile Design – Lee agitators can be fabricated and installed into hemispherical bottom kettles with tilting feature for cleaning and maintenance as an option, for either atmospheric or vacuum/pressure applications. Custom-designed agitators can also be incorporated into dished, conical and flat-bottom tanks.

Designed and fabricated to meet and exceed your sanitation and processing requirements.
Agitator Styles
Style #5 - Single-motion agitator with bars and scraper blades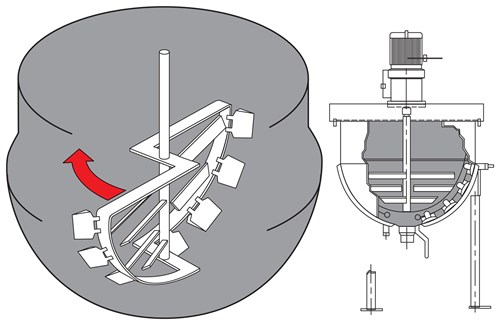 Also available without scraper blades
Style #7 - Single-motion, anchor-style with scraper blades and a fixed vertical baffle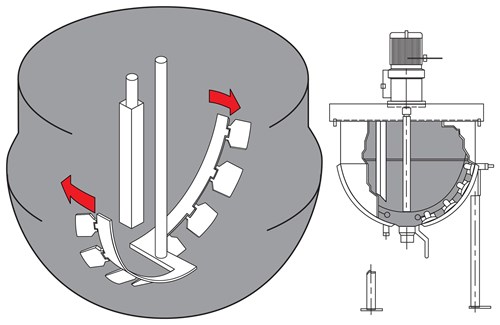 Adjustable or removable baffle optional
Sickle and sweep designs available
USDA approved
Style #9M - Double-motion agitator with scraper blades, counterrotating shaft with agitator bars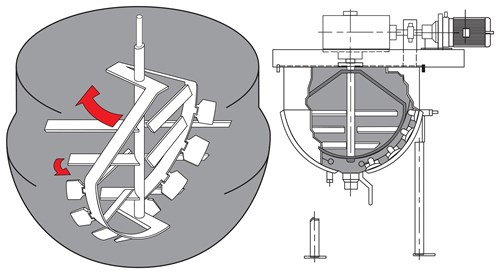 Meets the most stringent sanitary requirements with a sanitary quick disconnect coupling on the counterrotating shaft
Bottom endplate contains a USDA-approved bushing to assure alignment
USDA approved
Style #10 - Dual agitator with anchor-style agitator combined with pitched blade secondary mixer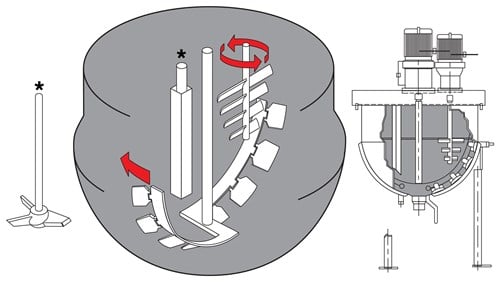 Anchor-style scrapes side walls and swirls product toward secondary mixer for complete agitation
Auxiliary prop or high-shear mixer available as an option
USDA approved
Style #12 - Triple-Motion Tri-Mix™ Turbo Shear™ agitator with scraper blades, counterrotating agitator bars with on-center, high-shear, high-speed mixing

Independent center mounted high-shear mixer
High-shear mixer runs at 3,450 or 1,725 RPM
Turbine Style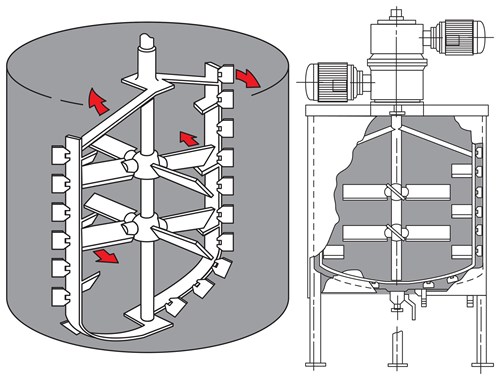 Independent drives on high-intensity double-motion agitator with scraper blades
Adjustable 4-blade pitched turbines on inner construction
Incorporates batch turnover capability of turbine mixer with efficient agitation of counterrotating agitator
Available in USDA approved design
If you don't see an agitator that meets your needs, or are overwhelmed by the choices, call us. Tell us what your specific needs are and let us put our decades of knowledge and expertise to work for you.
Agitator Options & Accessories
While the style of agitator you choose will have its own set of features, you also have the opportunity to choose from a few other options.
Electropolishing and Finishing
We recognize the demand for high-quality, durable, ultra-sanitary finishes. We provide world-class mechanical finishes and can also provide electropolish finishes on all of our parts and products.
Extensions and Inclines
By extending an agitator to the top of your kettle, tank or vacuum pan, or taking advantage of an incline design, you can achieve the precise mixing pattern you need for your product.