Tanks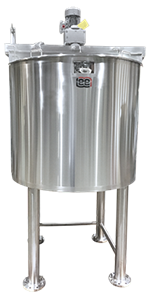 If you're looking for a tank to store or process your product, our tanks are up for the job. Lee tanks are made to the strictest industry standards and will meet or exceed your certification requirements. We serve a variety of industries, that make a variety of products. Whether you need to add a cover designed for pressure or vacuum applications, or a jacket for heating or cooling, Lee tanks are designed to give you the best version of your product, in large batches. Interested in mixing a smaller batch? Consider a Lee kettle. Or, if your priority is heating and/or cooling, consider a Lee cooker / cooler.

Lee Industries Tank Styles
Lee builds the tank that is right for the job. Our methods, processes, experienced team, modern production equipment and plant facilities work collectively to produce a full line of tanks to meet your specific needs. Lee Industries manufactures a wide variety of vessels and reactors, from jacketed ASME tanks to single-shell units all fabricated to customer specifications and processes.
Tank Standard Features
All Lee Tank Styles Feature:
#4 finish inside and outside

Sanitary flanged rims

Various certifications such as ASME and USDA
Lee Tank Outlet Features:
Exclusive Lee designs permit shorter outlet fitting
Lee Tank Support Features:
Stainless steel pipe legs

Tank Styles
Pharmaceutical tanks

Bioreactors

Heavy Duty processors

Hold tanks

Vaccine tanks

WFI tanks

Storage tanks

Mixing tanks

Food processing tanks

Chemical blending tanks

Vacuum/pressure tanks
Tank Customization
Every part of a Lee tank is customizable - from the cover to the feet. We've included an overview of each of the options below.
Covers
Covers designed for pressure or vacuum applications are available for all Lee tanks. Choose from:
Bolt-on type
Quick-release style
Welded (to the cylinder)
One-piece
Hinged
View Cover Sketches
Cylinders
The diameter and depth of the tank cylinder can vary based on your size and process requirements.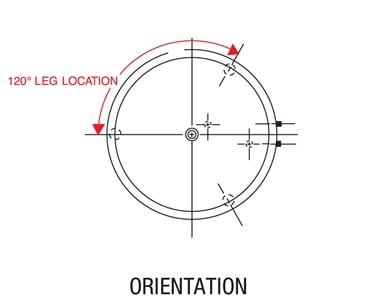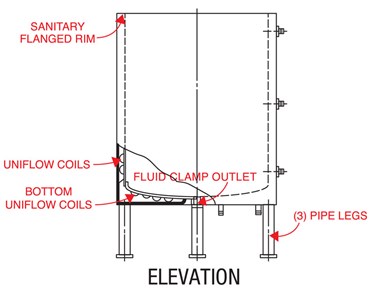 Pitched Bottom

Dished Bottom

Cone Bottom

Bottoms
We offer three styles of bottoms, each with its own advantage for various processing applications.
Pitched offers excellent drainage for liquids and places the outlet on a horizontal axis.
Dished offers center draining for more viscous products. Reverse dished bottoms are also available.
Cone is ideal for viscous or semi-solid materials. The standard cone bottom angle is 120º, but can be varied to suit process or product requirements.
Outlets
All outlet pipes are stainless steel, with one of the following options:
I.P.S
Sanitary Acme thread
ASA flange
Sanitary quick clamp
Lee manufactures diaphragm and flush ball outlet valves which are ideal tank outlets.
If you don't see a tank that meets your needs, or are overwhelmed by the choices, call us. Tell us what your specific needs are and let us put our decades of knowledge and expertise to work for you.
Tank Options & Accessories
While the style of tank you choose will have its own set of features, you also have the opportunity to choose from a few other options.
Manways
Standard manholes are available for either head or cylinder mounting.
Electropolishing and Finishing
We recognize the demand for high-quality, durable, ultra-sanitary finishes. We provide world-class mechanical finishes and can also provide electropolish finishes on all of our parts and products.
Jackets
Two different heat transfer jacket options, open or Uniflow coil style, are available.