Tri-Mix™ Turbo-Shear™ Mixing System
Tri-Mix™ Turbo-Shear™ High-Shear Mixing System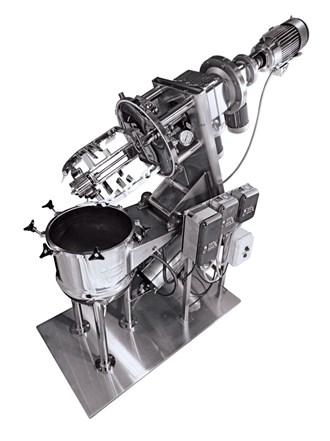 Product viscosities up to 2,000,000 CPS on primary double-motion

High hydraulic and mechanical shear

Clean, sanitary design

Particularly efficient for hard-to-wet-out products

High-velocity axial and radial product flow

Continuous, high flow rate through the mixing head

Unique, double-motion agitator offset frame ensures uniform scraping action and continuous product flow

Custom designs available

Batch-to-batch uniformity

Product scale-up and process guarantee

Lee's Tri-Mix™ Turbo-Shear™ is one of the most versatile, high performance mixing systems available today. It can reduce and control uniform particle size to as small as two microns. It blends, disperses and emulsifies ingredients in either a liquid/liquid or liquid/solid system. This unit combines the heat exchanging efficiency and mass blending of the traditional Lee double-motion scraped-surface agitation system with the homogenizing action of the Turbo-Shear™ mixing head. This unique mixing head offers a variety of configurations for versatility in mixing applications.
The Turbo-Shear™ utilizes both mechanical and hydraulic shear to dissolve powders, blend miscible and nonmiscible solutions, prepare lotions and creams, and disperse pigments. A center shaft, which can be run with the primary double-motion agitator or alone, operates at either 1,725 or 3,450 RPM. Other speeds are available on special request. The scraped-surface, double-motion agitator cleans the vessel walls during each blending revolution.
The Tri-Mix™ Turbo-Shear™ can also be designed for pressure and vacuum. And, because the high ratio of hydraulic to mechanical shear does not induce great quantities of heat, the Tri-Mix™ can process your temperature-sensitive products too. The Lee Tri-Mix™ Turbo-Shear™ is available from as small as 10-quart research models to as large as 1,000 gallon production vessels. Custom designed units are also available for especially difficult applications. A product guarantee, based on free testing of your product in our 25 gallon lab Tri-Mix™ Turbo-Shear™, adds security to your investment.
The diagram below shows the flow of a typical product. The scraper cleans the vessel walls once each revolution and moves the product toward the middle, where it is further blended by the counter-rotating bars. The high-shear head is driven by a separate motor through the center of the agitator. The unique pumping action of the Turbo-Shear™ head assembly forces the product to move from the top or the bottom of the vessel and expels it radially, at high velocity, through slots in the housing. The high pumping rate creates hydraulic and/or mechanical shear, depending on head configuration and total product circulation within the vessel. The standard head assembly enables the user to obtain any of the configurations shown below by simply rearranging the components.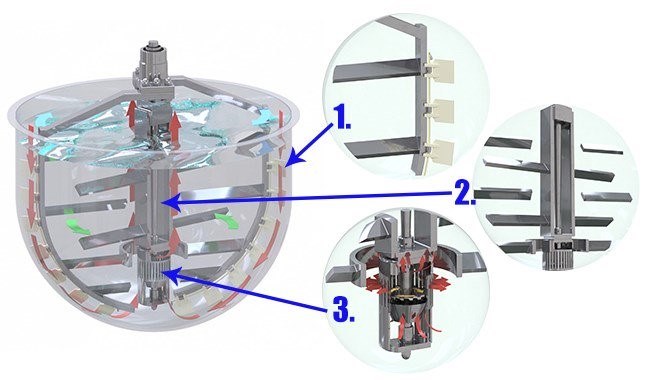 1. Robust Scraped-Surface Agitation directs high-viscosity ingredients toward the middle and down the sides of the vessel into the high-shear mixing head.
2. Inside Counter-Rotating Mixing Bars provide additional mixing power to move ingredients efficiently around the vessel.
3. High-Shear Mixing Head expels the product at high velocity through slots in the head, creating hydraulic and/or mechanical shear to force the product to the top or bottom of the vessel, depending on head configuration.