Manufacturing
Lee Industries manufactures innovation.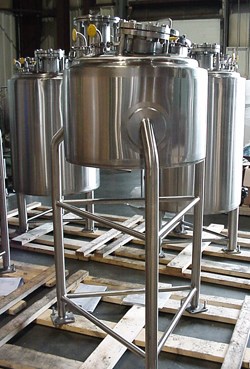 Over the years, our customers have come to us with design challenges. Every engineering innovation we've developed from those challenges, automatically becomes a part of our ongoing design process.
Whether it's kettles, tanks, blenders, heat exchangers, agitation or sanitary valves, you can count on the latest solutions built-in to meet your specific processing needs.

Lee manufactures a complete line of sanitary stainless alloy processing equipment, including:
Media transfer vessels

Vacuum-pressure mix tanks

Bioreactors

Fermentors

Kettles

Tanks

Scraped-surface agitation

High-shear agitation

Vacuum-pressure vessels

Mixer agitators

Portable and lab-size vessels

Controls and instrumentation

Sanitary mixers

Sanitary ball valves

Manways
USDA approved and 3A sanitary flush-bottom and in-line ball valves including aseptic, clean-in-place, jacketed, automatic and fractional-size models.
Lee recognizes the demand for high quality, durable, ultra sanitary finishes. In addition to our world class mechanical finishes, Lee Industries can provide electropolish finishes on everything from fittings and fractional-size valves to our 30,000 gallon reactor vessels.