Available Parts
The Lee Parts Solution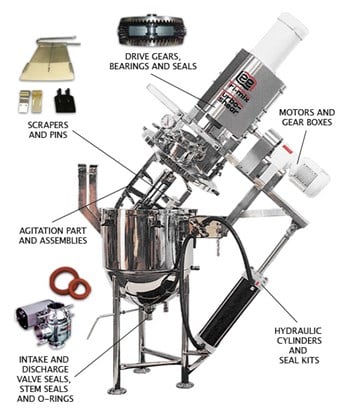 To keep processing equipment running smoothly, and avoid precious downtime, consider Lee's Parts and Service Department.
Our experienced, ASME certified field service technicians are readily available to make repairs, modifications, install and perform startup on your vessels. When service is necessary, we work with your production schedule to eliminate unnecessary downtime. Our technicians have over 50 years combined experience in customer solutions.
Our Parts Department has records dating back to the 1940s for Lee Genuine Replacement Parts, which are manufactured by the same craftsmen and machinists that made the original equipment at our manufacturing plant in Pennsylvania. We are able to work with the actual detailed drawings and perform inspections by our Quality Assurance Department, so you can be confident that the specific materials and required tolerances are equal to the original.
Standard in-stock parts are available from Lee. Please contact our Sales & Service Team at 814-342-0461 to discuss your needs.