Kettles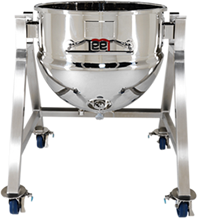 Our kettles have a unique design with a true hemispherical bottom, ideal for mixing and, with the help of an optional spiral jacket built in to the hemisphere, providing high efficiency heating and cooling. Think of one as the bowl of your kitchen mixer on steroids. Capacities range from one gallon to 2,000 gallons. We stop at 2,000 gallons because the complexity of the half sphere bottom limits the functionality on anything above that. Need something bigger? Consider a
Lee tank
.
Lee Industries Styles
We've been designing kettles that meet all processing requirements for decades. Built to ASME specifications in various jacket styles and pressure ranges, they are available with a wide variety of features and accessories. They can be modified or custom built to your specifications, whether you need to accommodate pre-existing floor scales, doorways, room size, or other limitations. We can tailor our products to your facility and your specific process, including vacuum and pressure operation.
Standard Features
All Styles Feature:
Traditional high-polished sanitary finish
Sanitary flanged rims
All stainless steel product contact parts
Outlet Features:
Exclusive Lee designs permit shorter outlet fitting
Sanitary Acme threaded or tri-clamp ferrule provided on stationary kettles
Support Features:
Stainless steel pipe legs with fixed floor flanges
Available on stationary and tilting kettles
Trunnion Style Features:
Free-pouring spout
Tilt handle on CD style
Hydraulic tilting on CHD
Style D
Style D - Super Jacket Stationary with Uniflow Coil Jacket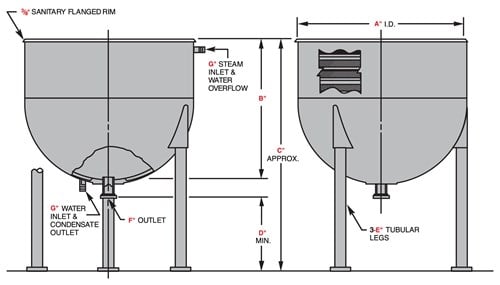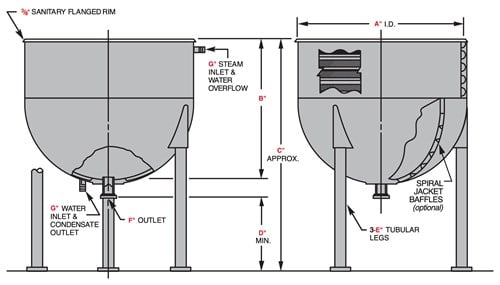 Continuous coil automatically welded to vessel straight side for exceptional bond
Hot or cold spots eliminated with Lee's Uniflow coil jacket providing uniform thermal flow
Optional spiral jacket provides directional flow of heating or cooling medium

Style CD – Super Jacket Trunnion Mounted with Manual Tilt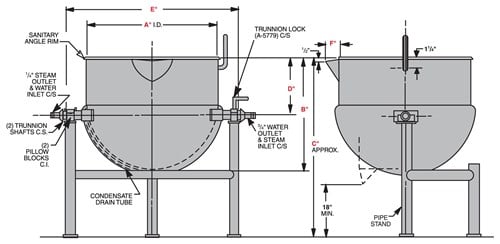 Trunnion mounted and pouring lip for tilt-pouring
Outlet or valve may be added to bottom for draining
Positive latching meets federal safety standards
Standard features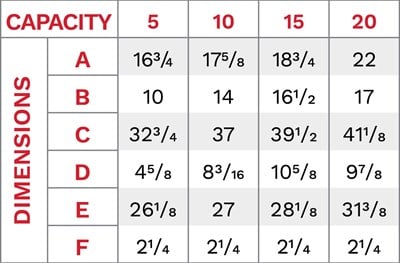 Style CHD – Super Jacket Trunnion Mounted with Hydraulic Cylinder
Identical design to the manual tilt model
Hydraulic titled trunnion kettles available in capacities ranging from 25 to 1,000 gallons

If you don't see something that meets your needs, or are overwhelmed by the choices, call us. Tell us what your specific needs are and let us put our decades of knowledge and expertise to work for you.
Options & Accessories
While the style you choose will have its own set of features, you also have the opportunity to choose from a few other options.
Instrumentation
Temperature recording and control can play a critical role in your processing technique. Our temperature sensing or control instruments can ensure you yield the desired results in heat transfer vessels. We offer:

A wide variety of temperature sensing control and recording instruments

Probe-type sensors for open styles

Stainless steel flush mounted sensors for scraper blade agitator installations
Covers
We offer various styles of sanitary covers for all types of Lee vessels.
Two- or three-piece covers, either lift-off or hinged

Furnished with special fittings or openings. if necessary

Designed to include a vacuum/pressure style cover if required
Electropolishing and Finishing
We recognize the demand for high-quality, durable, ultra-sanitary finishes. We provide world-class mechanical finishes and can also provide electropolish finishes on all of our parts and products.