High-Shear Mixers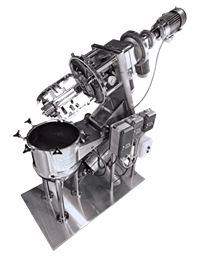 High-shear mixers are often used to incorporate powders into liquids to minimize lumps and create a smooth final product. They also help to reduce the oil droplet size in a water and oil mixture. Looking for something that works well with dry mixing? Consider a
Lee blender
. Working with two similar liquids, or looking for a less rigorous mix? Consider a
Lee agitator
.
Lee Industries High-Shear Mixers
Versatility in high-shear mixing options can provide both the efficiency and desired mixing results for specific processing applications. Lee's high-shear vessels blend, disperse and emulsify primary ingredients in a liquid/liquid or liquid/solid state utilizing both mechanical and hydraulic shear to dissolve powders and blend miscible and non-miscible solutions. Available in sizes from 10 quarts to 1,000 gallons, Lee's Tri-Mix™ Turbo-Shear™ will solve your most demanding mixing or dispersion problems.
High-Shear Mixer Styles
Tri-Mix™ Turbo-Shear™ High-Shear Mixing System

The independent high-shear mixing head works best for products with a viscosity (thickness) rating up to 10,000 cps. It consists of a combination of our heavy duty double-motion, counterrotating agitator, with a bottom mount concentric shaft.
Multi-Mix High-Shear Mixer

This mixer is a batch mixer that mounts on the top or bottom of kettles and tanks. This works best for product viscosity (thickness) under 10,000 cps. Have something thicker? Consider our
Tri-Mix™ Turbo-Shear™ High-Shear Mixing System
.
If you don't see a high-shear mixer that meets your needs, or are overwhelmed by the choices, call us. Tell us what your specific needs are and let us put our decades of knowledge and expertise to work for you.
High-Shear Mixer Options & Accessories
While the style of high-shear mixer you choose will have its own set of features, you also have the opportunity to choose from a few other options.
Electropolishing and Finishing
We recognize the demand for high-quality, durable, ultra-sanitary finishes. We provide world-class mechanical finishes and can also provide electropolish finishes on all of our parts and products.