Lee Industries Blog
Soup's On: What to Consider When Adding Capacity for Soup Production
---
Sign up to be notified of our new blog posts.
Soup's On: What to Consider When Adding Capacity for Soup Production
Posted on September 08, 2021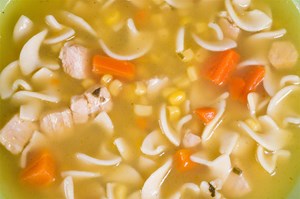 With a nod to a famous advertising tagline, more and more people around the world are agreeing that "soup is good food".
Even without the spike in demand caused by the pandemic in 2020, the global soup market was on a steady rise. So, it's no surprise that researchers expect significant growth in the coming years, with global annual value reaching $20B by 2026 – a nearly 20% increase over 2020.
This positive outlook – driven by a growing demand for healthy convenience food, mounting interest in global and ethnic culinary offerings and heightened popularity of fresh prepared/ready-to-eat and frozen foods – is leading many soup producers to evaluate their processing operations, to make sure they can consistently churn out enough product to meet demand.
Factors that determine your ideal soup processing equipment
Because throughput, quality and efficiency go hand-in-hand, operators facing increasing production demands need their processing equipment to not only offer sufficient capacity but also affect batch productivity. With that in mind, soup processors should consider these factors to decide the processing equipment that is best for their operation:
Soup ingredients will dictate several equipment design choices. For example, for soups with chunks of meat, potatoes or vegetables, a hemispherical kettle paired with an inclined agitator can ensure the scraper blades sweep the inside jacketed surface of the kettle, leaving no unmixed product in the vessel. This configuration increases product contact with the heating jacket for more consistent heating and cooking results. Soups with dairy ingredients may require direct steam injection to prevent burn-on during cooking.
Product integrity is critical to the success of any soup product. Producers – particularly of soups containing solids – must ensure consistent ingredient distribution. Improper mixing can stratify ingredients, leaving individual containers with too much solid ingredients and not enough broth and vice-versa. The solids must be gently agitated to avoid crushing, degrading, or smearing the ingredients. The kind of slow-motion lifting and folding necessary to properly distribute and protect solids can be achieved with a variety of agitators, keeping all ingredients evenly suspended both vertically and horizontally in the batch to prevent damage.
Product viscosity should be considered at its most viscous state, which usually occurs in the initial mix. Higher viscosity soups may demand a more powerful motor and gearbox and a heavier-duty agitator frame design. Lighter viscosity soups, with particles and solids of varying specific gravities, also benefit greatly from the inclined agitator's ability to lift solids that tend to sink.
Heating and cooling requirements can be another important processing consideration for some soup products. Some prepared soups are both heated in the vessel during cooking and then cooled in preparation for packaging prior to freezing. For these situations, the construction and quality of the vessel's heating and cooling jacket is critical. The most efficient jacket design can be provided based on the overall process and products being produced.
The need for versatility must be an integral part of any processing equipment conversation. Producers preparing only one product line can tailor their processing vessels to that product. But if multiple products will be produced on the same equipment, the vessel and agitator design must be flexible enough to allow for maximum productivity across the complete range.
When determining the processing vessel and agitator combination required to increase capacity and productivity, the best results come from a comprehensive understanding of the unique characteristics of your product range. A Lee Industries applications engineer would be happy to help you think through your situation. Just contact us to get started.
---