Lee Industries Blog
The Earlier the Better: When Food Manufacturers Should Bring Processing Equipment Engineers into New Product Development
---
Sign up to be notified of our new blog posts.
The Earlier the Better: When Food Manufacturers Should Bring Processing Equipment Engineers into New Product Development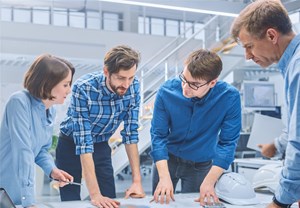 Chances are, if you are in the food manufacturing industry, you think a lot about new product development.
Many food manufacturers consider it to be the driving force of their organic growth. They make great investments to develop new products that attract consumer interest and widen their revenue streams. And the pace of new product development has accelerated, as factors such as population shifts, ethnic diversity, higher supply costs and a growing concern for healthy foods impact consumer demands. Not to mention the effect of the pandemic.
Yet, despite the emphasis, it is not uncommon for manufacturers to limit their potential by setting up shortsighted or sub-optimized production processes to produce their new products.
This happens most often when the manufacturer leaves processing equipment specification decisions to the end of the planning phase, after processes have been designed and validated. At that point, it may be difficult to investigate or test alternate scenarios that may prove more ideal.
Take for example, the manufacturer that designed a mixing process for a new product around a certain agitation style that worked well in their trial batches. Their initial equipment purchase paired the agitator with a 500-gallon vessel. When they later wanted to build a larger agitator/vessel system to handle additional capacity, they learned that the agitator style they had started with could not be built any larger and could not scale to a bigger vessel.
Far better to engage your processing equipment partner early in your new product planning phase. Their unique expertise and experience can help you design the best way to bring your product to life and achieve your quality and throughput goals.
The Advantage of Early Engagement
When brought in early, a team of equipment application engineers can integrate the needs of all your teams—from R&D to production to operations—to make sure your equipment is built around your product, your infrastructure and your production goals, a much stronger recipe for new product success than retrofitting your process around the equipment.
Here are the some of the areas your processing equipment partner can help you with early in the new product planning process:
Collaborate with your R&D team to translate the mixing and cooking performance they achieved in the lab or in trial batches to a scalable production process.
Review short- and long-term capacity objectives, to avoid future modification costs.
Examine your facility characteristics, such as utility or space limitations, heating and cooling considerations and fit with fillers and other equipment.
Interview and observe your production crew to identify processing bottlenecks and opportunities to improve efficiency and safety.
If the product launch will necessitate new construction, work with building contractors to optimize the footprint and ensure heating sources and electrical layouts are planned appropriately for the equipment.
Involving your equipment partner early in the R&D process can also provide a hands-on ability to minimize risks as you move from benchtop equipment to trial batch to commercial production. Some processing equipment providers – including Lee Industries – offer a testing lab that manufacturers can use to determine how their ingredients and processes will behave at scaled production levels and identify ways to improve the mixing and cooking process. This can be a great way to experiment and fine-tune different ingredients, formulas or processes to achieve the results you want.
Process equipment companies with strong application engineering resources can make a substantial impact on new food product success. When brought in early in the process, they can make sure that the manufacturer's process is optimized, and all its objectives and needs are in sync.
To discuss your new product development with a Lee Industries' Application Engineer, or discuss another process manufacturing issues, please
contact us
. We would be glad to help.
---