Lee Industries Blog
Annual Food Manufacturing Surveys Yield Important Equipment Considerations
---
Sign up to be notified of our new blog posts.
Annual Food Manufacturing Surveys Yield Important Equipment Considerations
Posted on August 03, 2022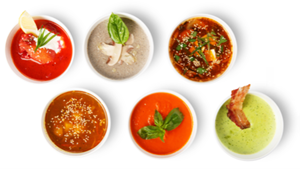 We're always paying attention to the issues our customers face in their businesses. That way, we can adapt our products and services to best fit their changing needs. So, the recent release of two annual research reports within the Food Manufacturing industry is particularly interesting.

Both The State of Food Manufacturing in 2022, from Food Engineering and the 51st Annual R&D Survey from Food Processing shed light on the current challenges and priorities of food manufacturers. Taken together, they show an industry exiting from pandemic-era chaos with a need to meet increasing demand and a bright focus on new product development and current product enhancement.

Some of the key findings:
The most common R&D target continues to be "really new" product development, with one-third (33%) of respondents citing it as most important. However, this is down from 36% and 37% the previous two years.
Current product targets have made up the difference, with such areas as "existing product improvements"—named as most important by 15% of respondents—and "cleaning up" current products—cited by 19%, each rising several points this year over last year.
Speed-to-market is accelerating for new product development with 53% taking six months or less to go from concept to shelf. This is a jump from 42% last year.
For two-thirds (67%) of processors, throughput has increased in 2022, by an average of 24%.
Only 4% of processors attribute this increase to COVID-related reasons, down from 33% last year. Instead, 72% cite increased sales due to new customers and overall demand as the reason for the increased throughput.
Implications for Food Processing Equipment
From an equipment perspective, these findings have significant implications. For example, the growing emphasis on current-product enhancements includes ingredient changes ("removing sugars" tops that list, cited by 32% of respondents) that may require different agitation or mixing elements to produce. The same is true for ingredient changes forced by sourcing difficulties (cited as an issue by 52% of processors). And throughput increases are creating additional needs for operational productivity, with 80% of processors looking at equipment upgrades.
Tap Into Your Equipment Provider for Part of the Solution
Food manufacturers facing these challenges would be well-served by including their processing equipment providers as part of their solution team. Experienced equipment providers have the advantage of having worked with many other manufacturers on similar initiatives. At Lee Industries, for example, we've worked with thousands of food manufacturers for nearly 100 years, so our Applications Engineers can provide lessons-learned value at each stage of the process. Here are a few of the ways your equipment provider can support you:
Bring your provider in at the beginning. Early involvement of equipment Application Engineers can ensure your equipment is built around your product, your infrastructure and your production goals. They can make sure new processes fit your facility and space limitations, lab and trial work translates and scales to production and you have the flexibility to meet both your short-and long-term capacity objectives.
Take advantage of your provider's testing lab. Some equipment providers offer a testing lab where manufacturers can determine how their ingredients and processes will behave at scaled production levels and identify ways to improve the mixing and cooking process. This can be a great way to experiment and fine-tune different ingredients, formulas or processes to achieve the product and speed-to-shelf results you want.
Get your provider's input on production bottlenecks. Production bottlenecks are common in operations of all sizes. They're also costly and avoidable, particularly when designing new production processes. An experienced provider has seen all kinds of bottlenecks—from sharing production vessels with incompatible ingredients to holdups at the filler or packing system—and learned how to solve them.
The factors shaping the food manufacturing industry and the obstacles today's processors are facing may not be surprising, but they are challenging. As you address them in your operation, be sure to consider the role of your processing equipment and take advantage of the expertise that experienced equipment providers have to offer.

For more information, or to discuss your situation, reach out to a Lee Applications Engineer. We'd be happy to help.
---