Lee Industries Blog
Pandemic Raises Value of Cleaning and Sanitizing Features for Processing Equipment
---
Sign up to be notified of our new blog posts.
Pandemic Raises Value of Cleaning and Sanitizing Features for Processing Equipment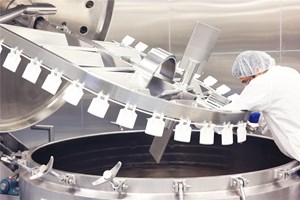 For food, beverage, biopharma, personal care and cosmetic product manufacturers, the need to clean and sanitize processing equipment has always been of vital importance. But in the wake of the coronavirus crisis, cleaning procedures will surely be scrutinized more heavily.

Looking ahead to this reality, manufacturers that hope to make cleaning and sanitization efforts easier and faster can consider several equipment features when buying processing kettles, tanks and agitation systems:


Construction Materials
For sanitary construction, efficient cleanability, and to minimize contamination risk, vessels should be fabricated in stainless steel or higher alloy materials such as AL6XN, or hastelloy.
Equipment Design
The physical design of your processing equipment can really help reduce collecting points and eliminate standing water, two key concerns for effective cleaning and sanitizing. Consider features like channel bridges that move water away from the top of the vessel, sloped kettle covers that allow water and other fluids to run off the top of the cover, and kettle legs that use round stock instead of rectangular tubing or angle.
Surface Finishes
Typically, the smoother the equipment's finish, the easier it is to clean. A sanitary food grade finish typically falls in the 20 to 30 Ra range, while cosmetic, personal care and biopharma product contact surface finishes can be as fine as less than 6 Ra. The lower the Ra value, the smoother the surface, which enhances cleaning by minimizing surface peaks and valleys and textures where bacteria or other contaminants can accumulate. Even for surfaces that won't come into contact with product, an enhanced finish will create smooth, sanitary and easy-to-clean surfaces.

Learn about surface finish grades


Welding, Grinding and Polishing Detail
For processing equipment, welding, grinding, and polishing all weld joints and seams creates smooth, sanitary and easily cleanable surfaces. The level of attention paid to these details during construction will have a direct impact on cleaning and sanitizing efforts.
Ease of Access
Often, the cleaning process for processing equipment involves tight quarters and hard to reach elements. In vertical tanks, for example, in order to remove a scraped-surface agitator, it must be lifted straight out from the tank, which requires extra headroom. To improve the cleaning process, consider features to improve access. These can include hemispherical-bottom kettles that are typically wider and shorter dimensionally, equipped with tilt-out scraped-surface agitators that can easily rotate away from the kettle body, making them easier and less costly to maintain.
Sanitary Ball Valve Construction
Conventional ball valves can pose cleaning challenges. They typically have three pieces – top, middle and bottom valve body sections – that require tools to disassemble before cleaning. Lee Industries' 3A Sanitary Manual Ball Valve is a two-piece ball valve body that can be disassembled by hand. This feature can reduce cleaning time dramatically, particularly when considering the multiple ball valves in the typical processing operation. Lee valves are also available with optional clean-in-place (CIP) modifications, allowing for cleaning without disassembly.

Read more about cleaning and maintaining sanitary ball valves


The coronavirus crisis will leave its legacy in many aspects of business, and we're betting that cleaning and sanitation processes will be one that area process manufacturers will need to address more aggressively. If you'd like help thinking through your situation, get in touch with us. Our engineers will be available throughout the crisis and beyond.
---