Lee Industries Blog
Pet Food Safety Incident Has Manufacturers Reviewing Their Operations
---
Sign up to be notified of our new blog posts.
Pet Food Safety Incident Has Manufacturers Reviewing Their Operations
Posted on November 10, 2021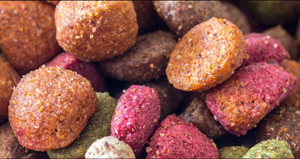 Pet food safety has been a hot topic in the industry since the 2011 enactment of the Food Safety Modernization Act (FSMA), which established stringent requirements for both human and pet food manufacturers. More recently, with its 2020 release of the New Era of Smarter Food Safety Blueprint, the FDA has further prioritized food safety initiatives, leading many manufacturers to take a hard look at their operations and ensuring their compliance with pet food safety regulations. We've seen a rise in discussions—with pet food manufacturers of all sizes—about how processing equipment can help them comply with FSMA and deploy best practices within their operations.
Processing equipment features that improve product safety
If you work in the pet food manufacturing industry, it may be timely and helpful to learn how engineering and construction features of the kettles, tanks and agitation systems you use to produce your product can impact product safety. Let's look at a few action steps you can take:
Optimize existing sanitary features to improve clean-in-place procedures. By adding higher grade surface finishes to vessel interiors and other food contact surfaces, you can increase cleaning efficiency. Welding, grinding and polishing all weld joints and seams creates smooth, sanitary and easily cleanable surfaces.
Specify features to eliminate standing water collection. Water collecting on the outside of a kettle can be a significant food safety issue. By adding small design elements such as sloped kettle covers and rounded legs and support hardware to move water away from areas where water tends to collect, problems with standing water can be virtually eliminated.
Enhance pipeline metal detection features. Foreign object contamination in pet food products is a serious concern for manufacturers. By impregnating your agitator scraper blades with stainless steel powder you can make potential contaminants visible to both x-ray and magnetic pipeline detection systems.
With FSMA, regulatory focus has shifted toward preventative operations and processes. And now that all the phased rollout deadlines for compliance have passed—the final extended Preventive Controls deadline for "very small businesses" was in January 2021—every pet food producer must comply.

As you think through the most efficient ways to comply with FMSA and protect the safety of your pet food products, remember to consider how your equipment provider can support your efforts. A knowledgeable resource with experience in the pet food manufacturing industry can provide valuable assistance.

To discuss how your processing equipment can support your product safety initiatives, contact a Lee Industries Application Engineer. We would be glad to help.
---