Lee Industries Blog
Lee Industries Explores Blending Options in Latest Production Guide
---
Sign up to be notified of our new blog posts.
Lee Industries Explores Blending Options in Latest Production Guide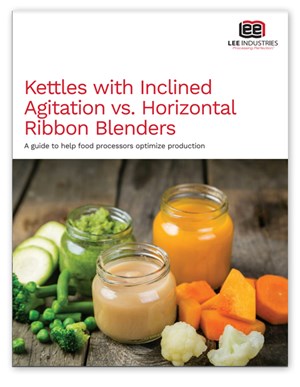 The latest production guide from Lee Industries explores the differences in the two predominant mixer styles in food production – inclined agitation kettles and horizontal ribbon blenders.
These vessels are key assets in food production operations and companies must carefully weigh many factors as they decide which mixers will optimize their efficiency and quality.
In Kettles with Inclined Agitation vs. Horizontal Ribbon Blenders, readers will discover:
How the physical profile of a horizontal ribbon blender can create challenges to product quality
Why certain ingredients raise different production questions
How kettle design impacts production efficiency
What the right kettle design decision can mean for the complete production process
Download the latest production guide here.
Other titles in the Lee Production Guide series:
---