Lee Industries Blog
When Looking for a Vessel, Don't Overlook the Value of a Professional Applications Engineer
---
Sign up to be notified of our new blog posts.
When Looking for a Vessel, Don't Overlook the Value of a Professional Applications Engineer
Posted on February 07, 2023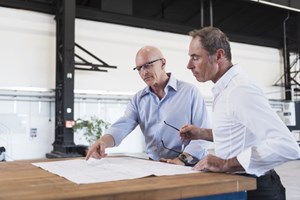 In a world where you can buy anything you want from vendors you never meet in person, it's easy to overlook the critical difference the right people—those real experts with real experience—can make on your success.
This ideal is especially important for food, cosmetic, pharmaceutical, and other manufacturers looking for new processing vessels. In today's marketplace—where a potential economic downturn is forcing manufacturers to be more cost-conscious, an ongoing supply challenge is continuing to disrupt equipment lead times, and a faster pace of new product introductions is intensifying the need for more or specialized equipment—some buyers are settling for cheaper, more immediate options, such as less customized new or readily available used equipment.
Such options, however, usually lack the significant and long-term value provided by trained and experienced applications engineers who make sure you end up with equipment that delivers the quality and efficiency your operation needs. Given that the typical processing vessel stays in operation for decades, applications engineers can have a tremendous cumulative bearing on your business.
How a Vessel Applications Engineer Adds Value to Your Operation
An experienced applications engineer has worked with hundreds of manufacturers, gaining a deep understanding of the factors that determine the right vessel type, size, and configuration for a particular production application. They know how to match features and functionality to the materials being processed, the facility they will be processed in, production volume and the desired traits of the end-product.
The applications engineer's input can mean the difference between a vessel that optimizes your operational performance or one that leaves quality, consistency, or productivity gaps. By assessing your operation, applications engineers account for factors such as the type of mixing system dictated by your ingredients and desired output, the type of heating and/or cooling configuration that will best achieve your quality and productivity objectives, and the vessel finishes and features that will be easiest to operate in your facility. In the hands of an experienced applications engineer, costly
production bottlenecks
can be identified and avoided.
For
new product launches
, applications engineers serve an additional, highly valuable role: They can integrate the needs of all your teams—from R&D to production to operations—to make sure your equipment is built around your product, your infrastructure and your production goals. Too often, manufacturers determine equipment specifications during lab bench trials without paying enough attention to scalability challenges, existing production workflow or facility limitations like utilities or space. An applications engineer can connect those various perspectives before specifications are determined, thereby minimizing risks, and improving operational success.
Comparing the Impact
At first glance, it can be tempting to consider cheaper or faster options when looking for processing vessels. But comparing what your performance will be with a vessel that is 80% ideal, versus one that is 100% designed for your operation can highlight the impact a professional applications engineer can make for your business. For a piece of equipment you may operate for years, the difference can be striking.
For more information, or to discuss your particular situation with a Lee Industries application engineer, just contact us. We're happy to help you think through your needs.
---