Lee Industries Blog
See Lee Industries Innovations in Food Processing at Pack Expo International 2018
---
Sign up to be notified of our new blog posts.
See Lee Industries Innovations in Food Processing at Pack Expo International 2018
Posted on October 10, 2018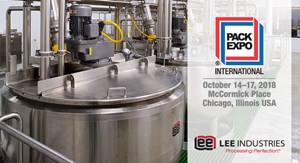 PACK EXPO International, to be held in Chicago beginning October 14, is the biggest packaging and processing event in the world. It showcases equipment, technologies, containers and materials for nearly every vertical industry from more than 2,500 suppliers.
We're always excited to be a part of Pack Expo. Lee Industries is committed to offering the best in custom processing vessel solutions and this is a perfect opportunity to show all we can do to help our customers improve worker and product safety, increase efficiency and reach new levels of productivity.
We're especially excited to feature our innovative kettle and agitation systems at this year's Pack Expo.
As we've written previously
, choosing the correct agitation design is critically important to your processing success. We're bringing different kettle and agitation models to display this year at Pack Expo. At our booth, you'll have the chance to see these kettles and learn how their features can affect your food processing operation:
•
A 50-gallon "D9MSI" kettle with a double-motion, inclined agitator
•
A 75-gallon "INA" kettle with a single-motion, pipe frame agitator with heavy duty scraper shovels
Both of these kettles are designed to handle different, challenging aspects of food processing at the highest level. A firsthand look at both will show how careful consideration of your processing kettle's agitation style can make an enormous difference for your food product.
We'll also be displaying Lee's exclusive two-piece ball valve, the first in the industry to achieve 3A Sanitary Certified status. Designed for fast and easy disassembly by hand, these valves are an ideal choice for sanitary applications in demanding food processing operations and can dramatically simplify your teardown, cleaning and service tasks.
If you'd like to see these processing advancements for yourself,
you can make an appointment
to meet directly with one of our engineers.
We hope you'll take the opportunity to see what we can do for your food processing operation at Pack Expo International this year.
See you at
the show
!
---