Lee Industries Blog
Five Equipment Decisions that Affect Efficiency and Productivity
---
Sign up to be notified of our new blog posts.
Five Equipment Decisions that Affect Efficiency and Productivity
Posted on September 22, 2021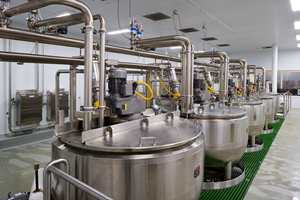 Expansion is on the minds of many process manufacturers lately. Driven by higher demand, product innovations and new distribution channels, processors are aggressively seeking to increase production in key industries like food, pharmaceutical, personal care and chemicals.

Yet, before considering a new building or larger plant footprint to achieve this higher production, manufacturers should first consider how their equipment decisions can affect processing times, production costs and overall efficiency. Manufacturers can usually unlock a great deal of value by the choices they make when specifying and using their processing equipment.

Here are five recommendations from application engineers at Lee Industries to help you capture some of the most common improvement opportunities:

Choose the right vessel style. Depending on your product,

certain vessel styles

can be much more efficient than others. Hemispherical kettle designs, for example, eliminate dead zones for more complete and consistent mixing. They also enable a specially designed agitator that can be readily tilted up and away from the kettle body for faster and easier cleaning and maintenance.


Increase the vessel's jacket area to reduce processing time. Extending the

jacketed area

around the upper part of the vessel increases the heat transfer area, significantly reducing both heat-up and cool-down times.


Prepare for today's product…and tomorrow's. Consider whether agitator features like increased horsepower or higher viscosity ratings would be necessary down the road to produce a wider variety of products at greater capacity. This is particularly useful for contract manufacturers, with customer-specific and often unpredictable manufacturing requirements.


Don't skimp on the

surface finish

. The smoother the equipment's finish, the easier it is to clean. While not all products need as smooth a finish as some cosmetic, personal care or biopharma products (i.e., less than 6 Ra), a smoother surface minimizes the peaks and valleys and textures where bacteria or other contaminants can accumulate. A slight upgrade in surface finish can improve production throughput by saving cleaning time.


Stock vessel replacement parts on-site. Keeping an inventory of

replacement parts

on-site can go a long way to minimizing downtime for repairs. This includes commonly worn parts—such as scraper blades and pins, O-ring seals, drive shaft bearings, seals and ball valve seal kits—that need to be replaced on a regular basis; and critical and special-order parts that may have to be custom-manufactured, such as internal drive shafts.
For most manufacturers, expansion initiatives don't come around very often. So, the more you understand how to get the most from your processing equipment the better your long-term performance will be.

Lee Industries application engineers can help you think through your particular situation. Reach out to us if you'd like to discuss your needs or to get more information.
---