Lee Industries Blog
Processing Equipment Options for Food Manufacturers to Meet Crisis Demand
---
Sign up to be notified of our new blog posts.
Processing Equipment Options for Food Manufacturers to Meet Crisis Demand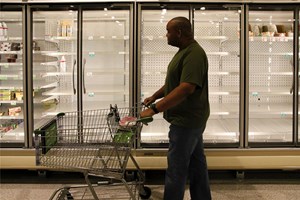 Always in the spotlight, the nation's food manufacturing industry is more critical than ever right now. With restaurants closed, students and employees working remotely and uncertainty reigning over everything, demand for many packaged food products is skyrocketing. Just watch the fast-emptying shelves of your local grocery store to see for yourself.
Manufacturers are doing everything they can to keep up as they ramp production, while also enforcing heightened disinfection and social distancing directives. For some manufacturers, ramping production will necessitate stocking replacement valves and parts for processing equipment to ensure continuous operation, or even adding processing kettles or tanks to increase throughput. Here is an overview of options in-demand food manufacturers can consider:
On-premise replacement valves and parts: All processing equipment needs maintenance from time to time, but downtime is the last thing you want when trying to ramp production. Keeping a stock of key parts in your facility will reduce that risk. In addition to sanitary ball valves and commonly worn parts (e.g., scraper blades, O-ring seals, drive shaft bearings), it may also be smart to order and inventory parts that must be custom manufactured for your vessels (e.g., internal drive shafts).

READ: Stock Vessel Replacement Parts On-Site to Make Your Maintenance More Efficient


In-stock equipment: While Lee kettles and tanks are mainly custom-built for a customer's specific application, we occasionally have an inventory of our most popular models for customers needing immediate support. Manufacturers can purchase an in-stock kettle that fits their long-term needs or supports their operation while their custom kettle is being built. Contact us for information on available in-stock equipment.


Used equipment: Used processing kettles can be an attractive option for manufacturers looking to quickly expand capacity. They may also have a lower initial price than a new processing kettle. But before deciding, buyers should investigate the kettle's prior usage, maintenance and repair history, and warranty. Learn more at our blog post Five Questions to Ask When Buying a Used Kettle.


New, custom-built equipment: Lee engineers design new kettles to optimize a customer's specific application. We take into account the properties of the products to be manufactured, the overall production process and throughput and even the manufacturer's physical environment to produce a kettle that delivers the most effective and efficient performance. Here's a good overview of the factors we consider to ensure your kettle is the right fit for your operation.
Because of our role in helping food manufacturers meet their production needs, Lee Industries has been deemed an "essential" business and remains open and completely dedicated to serving our food manufacturing customers. So, not only are we able to respond quickly to your need for additional equipment, but our valve and parts departments are available to keep your existing equipment running.
We've been serving the food manufacturing industry for over 90 years and are proud to do our part in this critical time to help manufacturers meet demand and keep the nation's shelves stocked.
Planning an expansion?
Download our guide to expanding and optimizing your food processing operation.
Contact us
if you'd like to discuss your process with one of our experts.
---