Lee Industries Blog
How to Improve Operator Safety in Your Food Processing Operations
---
Sign up to be notified of our new blog posts.
How to Improve Operator Safety in Your Food Processing Operations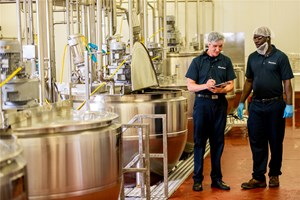 During food processing, the safety of your production team is key. Some safety issues to consider are:

How heavy are the loads of individual ingredients in the batch?
How high must ingredients be lifted by the operator?
How many times must the operator open and close the kettle during a typical batch process, and what operations do they need to perform during these steps?
Power-assisted loaders and automatic fillers can be used to prevent operator injury when loading batch ingredients. Other kettle modifications that can greatly enhance safety for the operator are: hinge-cover lift assists, cover grates, motor cutoff safety switches and variable-frequency drives.

Hinge-Cover Lift Assists
Lift assists allow the operator to easily open and close heavy kettle lids before, during and after processing. This feature also prevents the operator from getting injured from the kettle lid falling back unexpectedly onto the top of the kettle.

Cover Grates
A grate positioned under the cover allows for visual inspection of the batch during the mixing and cooking process. It also allows for operators to safely add ingredients while the agitator is operating, without concern for hands and arms entering the kettle.

Motor Cutoff Safety Switches
Motor cutoff safety switches automatically turn the agitator off if the cover or grate is lifted from the kettle.

VFD— Variable Frequency Drive
With a variable frequency drive, when obstructions or heavy motor loads cause amperage spikes in the motor, the agitator motor will shut off.

Protect Your Operators from Burns
During the cooking process, another concern is that the outside of the kettle jacket can become dangerously hot. To protect operators who are working around the kettles from burns, kettle jacket insulation is an available option to help reduce the temperature on the outside to a safe level. Jacket insulation also improves heat loss and improves cooking efficiency. And, an added benefit is the reduction in room temperature in the plant.

Finally, consideration should be taken when discharging the heated product at the end of the process. Extension handles can be installed on sanitary ball valves to prevent operators from having to bend down or move underneath the kettle. For even greater safety, pneumatically actuated sanitary ball valves can be used to provide remote operation.

Safety is a major concern for every food processing company. To learn more about kettle design and configuration to optimize safety, download our optimizing and expanding guide.

---