Lee Industries Blog
How to Improve Food Safety in Your Plant Operations
---
Sign up to be notified of our new blog posts.
How to Improve Food Safety in Your Plant Operations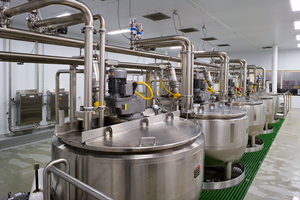 Assuring that your product will always be sanitary and free of contaminants is a critical food processing goal. So, when you are planning the design and configuration of your next kettle purchase, it is important to keep food safety in mind.
Important design features and fabrication techniques can be integrated into new kettles. These sanitary features optimize a clean-in-place (CIP) system. Higher-grade surface finishes can be used on all food contact surfaces to increase CIP cleaning efficiency. By welding, grinding, then polishing weld joints and seams—smooth, sanitary and easily cleanable surfaces are created.
Another food safety issue is water collection on the outside of the kettle. Several design features can eliminate this risk:
Channel Risers
To move water away from the top of the vessel, channel risers can be used to slope the channel bridge on the kettle's top motor mount.
Kettle Covers
Sloped kettle covers will also allow water and other fluids to run off the top of the cover.
Kettle Legs
Using round stock, instead of flat bars, for kettle legs can also help prevent water collection.
Other Enhancements to Insure Food Safety Processing
Pipeline metal detection enhancements, such as scraper blades saturated with stainless steel powder, can also be used to prevent contamination of food products during processing.
Additional Considerations
If you are considering purchasing a used kettle, it is critical to determine what ingredients were processed in the kettle. For example, a kettle that was previously used to mix or process hazardous, reactive chemicals or pharmaceutical products may pose too high a risk for use in food processing due to possible cross-contamination from trace chemical ingredients lodged in bushing spaces and other areas. You should also check food safety features, such as sanitary ball valves, easily drainable cross-members and support legs, and CIP support.
Food safety is a primary goal for manufactures. To learn more about kettle design and configuration to optimize safety, quality and production,
download our optimizing and expanding guide
.
---