Lee Industries Blog
How Staggered Production Can Reduce Processing Bottlenecks
---
Sign up to be notified of our new blog posts.
How Staggered Production Can Reduce Processing Bottlenecks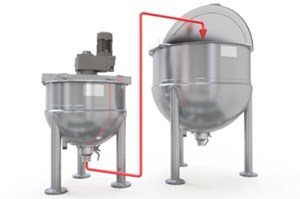 For many processors, the hunt for ways to squeeze more production within their existing facilities has become urgent. Already spurred by higher demand and accelerated new product releases, the need to increase production continues to intensify as consumption behavior adapts to world events.
In our work with processors in key industries like food, pharmaceutical, personal care and chemicals, we often encounter
production bottlenecks
that can be solved with a mix of experience and creativity. One of those bottlenecks occurs when current downstream capacity can't keep up with the desired production rate. In those situations, we've been able to gain significant production efficiencies by making a few equipment additions and modifying production to a staggered process: Here are a couple of techniques that have worked:
Right-size your production kettle capacity
Production bottlenecks can occur when cooked product must sit "on hold" in your production kettle due to a filler or packing system that is momentarily at capacity. A good approach to avoid this (and prevent possible overcooking) is to right-size and stagger your production vessel capacity. For example, instead of buying two 1,000-gallon vessels, you can buy four 500-gallon vessels and run them on a staggered basis. This approach can optimize your production while avoiding bottlenecks that can impact quality of cooked or agitated products. If daily production must be increased, then additional shifts can be added.
Add a holding vessel between production and filling
A holding (or normalization) vessel is a separate agitated kettle or tank placed at the end of the discharge pipeline path, just before the filler. For cooked foods this holding vessel can be heated. When production is properly staggered across multiple vessels, the holding vessel can keep product adequately agitated and flowing steadily with no interruptions to batch process operations.
For example, in a processing line with six production vessels and one holding vessel, batches can be cooked simultaneously, but with staggered starts — say ten minutes apart from one another. As cooking is completed for a batch in one production vessel, it is discharged to the holding vessel, which may also keep the product heated while continuously discharging it to the filler. The empty production vessel on the line is then refilled with ingredients and restarted to make a new batch or cleaned if taken offline at the end of a shift. Ten minutes later, the finished batch in the next production vessel is discharged to the holding kettle or tank.
This process continues in sequence every ten minutes, keeping the holding vessel continuously filled, and keeping the product moving at a steady rate from the holding vessel to the filler. By acting as the "storage buffer" between your processing vessels and ahead of your filler, the holding vessel maximizes your line's available production while eliminating overcooking from bottlenecks that can occur in conventional batch processing lines.
By recognizing production bottlenecks like these, processors can take the steps they need to expand production within their current footprint.
Lee's Applications Engineers are available to assist with your equipment design and production processes and are happy to talk through your situation with you. Just
reach out
to start a conversation.
---