Lee Industries Blog
Equipment Considerations for Plant-Based Food Processing
---
Sign up to be notified of our new blog posts.
Equipment Considerations for Plant-Based Food Processing
Posted on November 24, 2020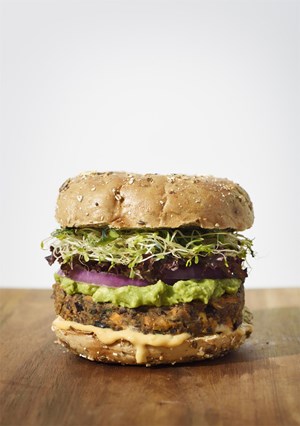 When McDonalds recently announced plans to test its own McPlant line of plant-based burgers in several markets next year, the commercial prospects for plant-based food products took yet another giant leap forward.
That news adds weight to some already impressive projections. According to a June 2022
publication from Meticulous Research
, the plant-based food market is expected to expand at a compound annual growth rate (CAGR) of 12.4% from 2022 to 2029, and will reach $95.52 billion by 2029. While this shift is being driven by an increasing intolerance for animal protein, new consumer aspirations and an increasing vegan population, the ongoing coronavirus pandemic has further boosted it by spotlighting the link between food, health and immune responses.
As food manufacturers look to ramp up production of plant-based products, they must determine how to configure their processing equipment to effectively scale operations. But in a relatively new category like meat analogues, manufacturers may encounter some unfamiliar processing challenges to launch a successful operation at scale.
Elements that Impact Processing Equipment Choices
Depending on the product type, the production of plant-based foods can involve many processing stages. Meat substitute products, for example, can contain dozens of base components with physical properties that vary by moisture, density, particle size, rheology and stability. This makes mixing one of the most critical steps in the manufacturing process.
If you are evaluating how to scale your plant-based food production, these factors related to your product can impact how your mixing equipment should be configured to work best in your operation:
The amount of moisture content of the material. Because plant-based protein mixtures tend to be fluid until heat-treated, the characteristics of your mixture will influence how best to initiate and distribute heat throughout your mixing vessel.


The use of dry, powdery ingredients. Ingredients like pea or soy powder may require a pre-mix blending with water or other liquids. They may also require a procedure to load the ingredients that reduces or eliminates dry powders from spreading in the air.


The characteristics of the proteins and other product components. Understanding how your product's ingredients combine, their sensitivities to temperature and shear, and the resulting viscosity all help determine the ideal vessel and agitator configuration.


Your goals for your product's texture and look. If you want certain fragile product ingredients to be recognizable, like black beans, for example, you will need much gentler mixing than if the end-product does not include heavy solids or soft ingredients.


Your volume objectives. In some cases, production processes that worked at small volumes are not viable at larger volumes. This can be due to product characteristics that behave differently at scale or to production inefficiencies that get magnified as volume increases. Accordingly, your ultimate volume objectives become important inputs to determine your mixing equipment's ideal configuration and size.


Other considerations that may be critical to your operation. What other challenges to your production might require special consideration for your equipment design? Examples such as particularly high-cost ingredients, an emphasis on green or utility-efficient operations, or a need to produce multiple products on the same equipment can all influence equipment configuration.
As new plant-based food innovations introduce new ingredients and challenges to production, manufacturers would be wise to work with experienced food processing application engineers to explore the optimal equipment configuration for efficient processing, consistent quality and scale. Lee Industries even offers a pilot lab with a range of vessel and agitator styles for plant-based processors to experiment with their product before making a commitment.
The plant-based food market is surging, forcing manufacturers to make important decisions about scaling their production. By closely exploring the factors that impact equipment choices, plant-based food manufacturers will be better able to seize their opportunities.
If you'd like help thinking through your plant-based food processing needs, let us know. Our engineers will be happy to discuss your situation.
---