Lee Industries Blog
Factors That Determine the Best Agitator Design for Your Processing Operation
---
Sign up to be notified of our new blog posts.
Factors That Determine the Best Agitator Design for Your Processing Operation
Posted on October 14, 2020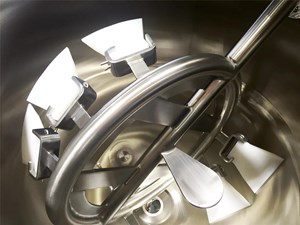 Processing operations involve a series of carefully engineered steps to produce, at scale, a finished product to its precise specifications. Clearly, operators that maximize the efficiency of their process and the consistency of their product gain a distinct financial advantage and more capacity to grow their business.
A key contributor to accomplishing this is the operation's processing equipment and the degree to which it is designed for the specific product and workflow.
In an earlier article, we identified
the factors that determine the ideal processing vessel
for your operation. Here, we focus on the all-important engine of the processing vessel – the agitator.
How your product traits affect your agitator choices
As is the case when choosing your vessel design, several factors about your product mix must be considered to determine the best agitator solution for your operation. These include:
| | |
| --- | --- |
| Individual ingredient characteristics | The characteristics of each of your product's ingredients and their composition at the end of the process affect agitator design choices. For example, food products with delicate, fresh-cut ingredients that must stay intact throughout mixing and cooking will require an agitator capable of producing gentle mixing action. |
| Ingredient miscibility | The extent to which your ingredients are able to form a homogenous solution by fully dissolving in each other at any concentration -- i.e., their miscibility – will influence the design of your agitator. Hard-to-blend ingredients are common in BioPharma, personal care and lubrication products. |
| Product weight and viscosity | Heavy and thick products require a much different agitator configuration than lighter and low-viscosity products. Specifications for motor power, agitator material thickness, shaft strength and gearbox style are affected, as well as the need for features like scraper blades, double-motion agitation and high-shear mixing heads. |
| Product variety and variability | If you will be producing only one product line, your agitator design can be completely tailored to that product. But if you will use your vessel to produce multiple products, your agitator design must be flexible enough to allow for maximum productivity across the complete range. |
Agitator options: matching the design to your need
Once you've considered your unique product and operational factors, you can begin to determine the most effective agitator solution for your application:
Design Style

Key Design Notes

Ideal Application

Single-motion agitator

Can be incorporated into hemispherical kettles, as well as dished, cone and flat-bottom tanks
Accommodates anchor or sweep designs, with or without scraper blades
Custom designed for new or existing vessels

Low viscosity liquids and simple heating or cooling applications for scraping the jacket, or gentle-motion mixing of higher viscosity products to help keep products in suspension awaiting filling.

Double-motion agitator

Counter-rotating shafts powered by single motor with variable speed controller to produce constant relative speed throughout the motor's speed range and ensure stable batch-to-batch consistency*
Independent gearbox option will maximize mixing flexibility as well as provide extra support in heavy-duty applications.
For extreme-duty mixing applications, an idler pinion on the Lee drive provides extra stability for the agitator/drive assembly.

Standard design rating of 100,000 cP with heavy-duty design options available to accommodate product viscosities as high as 2,000,000 cP

Products containing ingredients where both thorough mixing and suspension of ingredients is required

In double-motion agitation, inner and outer agitator shafts, driven by a single motor and gearbox, provide counter-rotating motion for inner and outer agitator blades.




Triple-motion agitator with high-shear mixing

Integrates double-motion scraped-surface agitations with an independently driven high-shear mixing head
Creates both mechanical and hydraulic shear for rapid and thorough blending of powder and liquid ingredients
Can handle viscosities as high as 2,000,000 cP and provide particle size reduction
Replaces need for separate pre-mix vessel and related transfer pumps and lines

Products that require high-shear, consistent mixing and uniform distribution of ingredients (e.g., creams, ointments, lotions, gels, lubricants)

Inclined agitation

Allows for slower speed lifting/folding to prevent damage to delicate ingredients
Requires a hemispherical kettle
The Lee double-motion agitator is available in both 22.5

°

and 30

°

incline configurations.
The Lee single-motion agitator is available in the 22.5°, 30° and 45° incline configurations.

Products with premium, fresh or solid ingredients that require gentle bending or folding action

High-viscosity products requiring thorough mixing, aiding in efficient heat transfer

*Single-motor design is an exclusive feature of Lee Industries. Other manufacturers may use two agitator drives.

Depending on your product and operational situation, certain agitator upgrades may be worth considering. These can include a tilting feature for easier cleaning and maintenance, electropolishing and finishing options to enhance durability and sanitation, and piggy-back drives for maximum flexibility and heavy-duty rating.

Choosing the right agitator is important to the efficiency, quality and consistency of your processing operation. For more information, or to discuss your particular situation with a Lee Industries application engineer, just contact us. We're happy to help you think through your needs.

Related Article: Factors That Determine the Best Processing Vessel Design for Your Operation
---