Lee Industries Blog
In-Stock Processing Equipment for When Custom-Built Is not an Option
---
Sign up to be notified of our new blog posts.
In-Stock Processing Equipment for When Custom-Built Is not an Option
Posted on February 10, 2021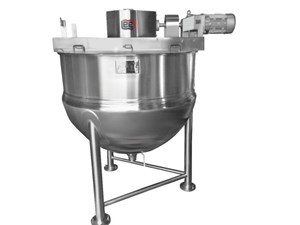 Food processing equipment, particularly kettles, tanks and other mixing equipment, is often customized around the specific needs of the manufacturer.
It is carefully designed with consideration given to the manufacturer's goals and the unique ingredients and cooking requirements of the product to be produced. It is specially engineered to yield the highest quality and maximize throughput and production efficiency.
And it is purposefully built to scale to the ongoing demands of the manufacturer's operation for decades to come.
In fact, this level of bespoke food processing vessel manufacturing is exactly what Lee Industries has been specializing in for over 90 years.
Yet occasionally, manufacturers have an urgent need for a new vessel and don't have the lead time required for a custom-built solution. For these situations, Lee Industries is continually manufacturing a range of our most popular models and sizes to make available as in-stock inventory upon completion. This equipment is available on a first-come, first-served basis.
In-Stock, Custom or Both – Responding to Your Needs
If we've learned anything from the COVID pandemic, it's to be prepared. Many of our food manufacturing customers have seen sudden and heavy demand spikes for their products, with a corresponding need to increase production quickly. In some of these cases, we've been able to use our in-stock inventory to help them meet their needs and grow their business.
For others, a combination of in-stock inventory and custom-built equipment is a way to accelerate the implementation timeline. For example, an in-stock hemispherical kettle combined with a custom-built agitator may provide the perfect solution and still require less lead time than a fully customized kettle/agitator solution.
While it is usually preferable to custom design and build a vessel to fit your specific circumstance, you may not always have the luxury of time for that. If you find yourself in that situation, speak to one of our application engineers who can help you review in-stock options and availability.
---