Lee Industries Blog
Challenge Accepted: Increasing Evaporation Rates to Accelerate Production
---
Sign up to be notified of our new blog posts.
Challenge Accepted: Increasing Evaporation Rates to Accelerate Production
Posted on February 19, 2020
The Challenge: Increasing Evaporation Rates to Accelerate Production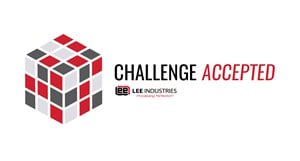 Challenge Accepted is a periodic review of how we solved a unique customer challenge.
Lee processing vessels are known around the world for expert craftsmanship and incredibly durable performance. Heck, we hear stories every week about a Lee vessel still in use 50 years or more after it was first put into service.
While we're very proud of our reputation for building high-quality products, we must admit that our best work often happens well before we cut the first piece of stainless steel for a new vessel. It takes place in the engineering room, where innovation and experience meet to solve real customer challenges.
That was certainly the case for a manufacturer of jams and jellies that needed to replace several small vacuum pans. Like a lot of our customers, they were seeking greater efficiency and wondered if using two larger vacuum pans would be more efficient than the eight smaller vessels they had been using.
What made this customer's challenge unique, however, was the amount of water that would need to be evaporated by processing their product in larger vessels. It was significant, and they feared it would take so long to evaporate that it would reduce their overall throughput. They figured that reaching their minimum production volume of 18,000 lbs. of finished product per hour would require an evaporation rate of 80 lbs. per minute, much higher than possible in a conventional jacketed vessel.
The Solution: Expanding the Heat Transfer Area
Lee engineers studied the challenge. Clearly, more heat transfer was needed, but the question was how to do that. After running a series of calculations, the engineers designed a way to add three booster coils into each vacuum pan, which they determined would increase the heat transfer area in each vessel from 45 square feet to 155 square feet. With this booster coil configuration, the engineers determined that the evaporation rate would be a minimum of 90 lbs. per minute.
So not only would this solution make it possible for the customer to go from eight 200-gallon vacuum pans to two 600-gallon vacuum pans and still meet their production requirements, but the higher evaporation rate would also give them room to increase capacity if needed.
Today, the two new 600-gallon vacuum pans – each equipped with three booster coils – are in use and delivering the labor and operational efficiencies the customer wanted. In their live environment, the evaporation rate has actually reached 100 lbs. per minute, enabling the customer to continue to add capacity.
So, while these vacuum pans were built to the highest standards for which Lee is known, you can trace their ultimate success for the customer back to the engineering room, where we do our best work. Challenge solved!
Have an engineering challenge you need to solve for your processing operation? Tell us about it.
---