Lee Industries Inclined Agitator Ensures Integrity of Clean Label Food
Lee Industries Inclined Agitator Ensures Integrity of Clean Label Food
Visit Lee at PACK EXPO booth 7661, April 16-18 in Philadelphia
May 09, 2018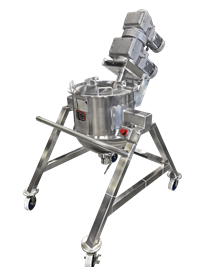 Inclined mixers are hemispherical kettles specifically engineered to deliver more efficient performance, especially when processing food products with delicate, fresh-cut or solid ingredients.
Philipsburg, Pa., April 12, 2018 – The clean label food trend is one that Lee Industries' inclined agitator can help with to ensure sanitary and versatile blending and folding for foods with various viscosities. To learn more about the inclined agitator and how it helps clean label food manufacturing, visit Lee at PACK EXPO, booth 7661.

The 30-degree inclined, double-motion agitator is used in conjunction with a hemispherical bottom kettle and is engineered to lift from the bottom and pull down from the top, eliminating dead zones for a thoroughly cooked product. The shape of the kettle coupled with the double-motion agitator prevents clumping and settling.

The inclined, double-motion agitator meets the most stringent sanitary requirements with a quick disconnect coupling on the counter rotating shaft. The bottom endplate contains a USDA-approved bushing to assure alignment.

"With the clean food label trend "non-GMO" growing at a rate of 40 percent per year, we want our customers to know we can help ensure their products will not be contaminated in the manufacturing process," said Greg Wharton, vice president for Lee Industries. "The growing consumer demand of clean foods can be entrusted to Lee's manufacturing equipment since our customers' requirements and government sanitation regulations are at the forefront of the design and functionality of each Lee product."

All Lee Industries' agitators are uniquely designed and fabricated with processing perfection in mind. The Lee process and design engineering as well as the fabrication teams provide the most robust, versatile and consistent agitators with your processing needs as the focus.

About Lee Industries:
Lee Industries is committed to the success of their customers by providing world-class, high-quality stainless alloy process equipment and services. They focus on custom processing needs of their customers and design and manufacture the most technologically advanced equipment in the industry. Lee's customer service team, backed by over 90 years of innovation and experience, provides clients with a single source for all their processing system needs. Based in Philipsburg, PA, Lee provides equipment and services for the food and beverage, pharmaceutical, personal care, cosmetics, animal food and health, industrial and chemical industries worldwide.