Lee Industries Focuses on Customer Service and Exceptional Product Quality with ISO 9001:2015 Certification
Lee Industries Focuses on Customer Service and Exceptional Product Quality with ISO 9001:2015 Certification
Lee Recently Achieved ISO 9001:2015 Certification
May 31, 2018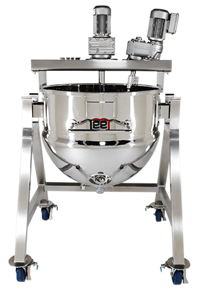 Lee Hemispherical Bottom - A Lee hemispherical-bottom kettle is engineered to prevent damage to high-value ingredients and assures consistent batch-to-batch quality.
Philipsburg, Pa., May 22, 2018 – Delivering superior quality products has been a Lee Industries tenet since they received the first certification 8 years ago. "Exceeding our customers' expectations with our products is our main goal," said Joshua Montler, president at Lee Industries. "Staying current with a quality system is imperative to continually delivering processing perfection to their manufacturing lines."

Lee Industries' employees are serious about customer satisfaction and quality – they track progress utilizing the continuous improvement mindset of the quality management system. "Our customer satisfaction has increased as a result of the focus," continued Montler.
Lee recognizes when perfection is missed and executes a quality control process to investigate the root cause. Problem solving like this has resulted in increased quality performance. "The certification is a huge undertaking for a company and lets our customers know when they purchase Lee products – they are purchasing top quality," Montler continued.

About ISO 9001:2015
ISO 9001:2015 sets out the criteria for a quality management system and is the only standard in the family that can be certified to. It can be used by any organization, large or small, regardless of its field of activity. In fact, there are over one million companies and organizations in over 170 countries certified to ISO 9001.
About Lee Industries:
Lee Industries is committed to the success of their customers by providing world-class, high-quality stainless alloy process equipment and services. They focus on custom processing needs of their customers and design and manufacture the most technologically advanced equipment in the industry. Lee's customer service team, backed by over 90 years of innovation and experience, provides clients with a single source for all their processing system needs. Based in Philipsburg, PA, Lee provides equipment and services for the food and beverage, pharmaceutical, personal care, cosmetics, animal food and health, industrial and chemical industries worldwide.